FTZ'ine December 2021
December 1, 2021
FTZ'ine February 2022
February 1, 2022
2022 Off To An Electrifying Start
The Potomac River may be frozen on top right now, but there was still a lot of trade news flowing from Washington in the first month of the year.
The largest changes to the HTSUS in five years were just implemented by CBP last week. New entry summary filing rules went into effect to execute the Presidential Proclamation on steel and aluminum from the EU. Those rules are likely to reappear for metals from the UK and Japan soon.
FTZ applications now in process highlight the major investments being made across the United States in electric vehicles (EV) and the batteries that drive them. The difficulties those EV production applications are having navigating the halls of Commerce also highlight the policy challenges ahead for foreign-trade zones as Washington grapples with the potential impact to legacy assembly and parts workers in the transition to greener transportation alternatives.
The new ACE Portal is live and users need to set up a new account this month or risk having their access turned off.
The U.S. economy grew 1.7% in the fourth quarter of 2021, a 6.9% annual rate and its largest one-year jump since 1984. That positive also highlighted the depths of the pandemic, and will likely push the Federal Reserve to raise interest rates within the next 6-8 weeks. Thoughts of rising interest rates rattled stock markets which had a tough start to the year.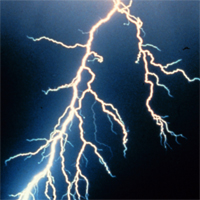 Top Story: EV's Charge Ahead With FTZ's
The Department of Commerce announced late last week that the U.S. trade deficit in goods widened to a record high in December as imports increased for a fifth straight month.
The Biden Administration is taking steps to make sure that the transition to electric vehicles does not exacerbate the growing trade deficit. That is good news for U.S. economic development professionals, but it also complicates the foreign-trade zone outlook for assisting with the transition.
Following Toyota's announcement in December to build a new $1.29B EV battery plant in North Carolina, several companies announced last month their own plans to build electric vehicles and the batteries that power them.
According to the Department of Energy the new announcements bring to 13 the number of battery cell gigafactories coming online in the US by 2025.
General Motors announced it is partnering with LG to invest roughly $6.6 billion in its home state of Michigan through 2024 to increase electric pickup-truck production and build a new EV battery cell plant.
Ford and a supplier will spend $11.4 billion on three battery factories and a truck plant, creating 11,000 jobs.
Tesla said that its profit last year had climbed sixfold, to $5.5 billion, but cautioned that shortages in components would limit production this year, a warning flag for the industry as it is making component sourcing decisions for the new plants.
The U.S. lags behind China and Europe when it comes to production and uptake of electric vehicles domestically, according to a new study by the International Council on Clean Transportation (ICCT)— and that gap widened from 2017 to 2020.
Last year, U.S.-based automakers produced at least 450,000 electric vehicles, with Tesla accounting for about 85% of that output. Annual EV exports from plants in the U.S. in 2020 exceeded 215,000, the most of any single nation.
Stronger demand overseas than in the U.S. makes it possible for EV makers to ship beyond our borders. That makes FTZ usage very attractive to U.S. assembly plants of EVs.
In contrast, Europe produced 25% of global electric vehicles from 2010 to 2020, manufacturing 2.6 million and selling 3.2 million, making the region a net importer.
From 2010 to 2020, researchers found, China was the largest EV producer geographically and accounted for about 44% of electric vehicles manufactured, with about 4.6 million units in both production and sales during the decade. That dramatic capacity in electric vehicles, and the already raw trading relations with China, have made the Biden Administration leary of component or vehicle imports that would seem to give China an entrance into the U.S. EV market.
Only two of 44 vehicle assembly plants in the U.S. were dedicated to making only electric vehicles in 2020, the ICCT report said. Three GM plants are scheduled to be converted to produce only EVs in 2021, and Tesla and Lucid Motors each have one new all-EV plant under construction. That would total seven of the 44 U.S. vehicle assembly plants that would be dedicated to making only EVs by 2025, based on public announcements of company plans.
Tech Tip: Zone IDs Are Changing For Real Now
Zone IDs and FTZ numbering has been the subject of several tech tips over the years. It's funny how something that seems so simple can create so many technical challenges for FTZs and Customs and Border Protection.
You may be asking yourself if you must go back and update your procedures manual, documentation and all other things you have labeled something that looks like "FTZ #25A Site 2". No, those FTZ Board assigned designations aren't changing, but the way you send them in anything electronic to CBP is finally getting synchronized.
On April 24, 2021, CBP deployed the Foreign Trade Zone (FTZ) ID Format Expansion. This necessitated an update in the both the ACE Entry Summary Create/Update and Duty Deferral Create/Update, but the format change was still optional in the e214. An operator could elect to use the old 7-digit format or the new 9-digit format on the admission. Now, CBP announced in CSMS #50858555 that the new format will be required in all new electronic admissions (e214s) filed starting on March 19, 2022.
Check with your FTZ software company and your broker if you use one to make sure they made the corresponding updates before the new deadline. And make sure that the 9-digit number you are submitting is properly formatted, with each of these three sections filled with leading zeroes to make up the full 9-digits:
FTZ ID = 3 numeric
Sub zone/GP ID = 3 alpha-numeric
Site ID = 3 alpha-numeric
If you have questions about how to process an e214, or FTZ filings in general, please email us at Info@iscm.co.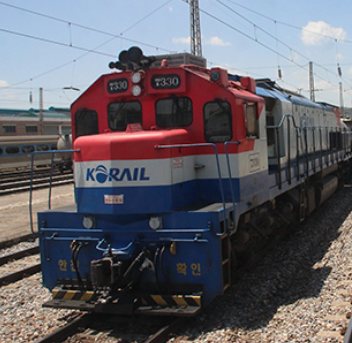 Missing a Package? Did You Check The Railroad Tracks in LA?
Broken seals and package theft are becoming a bigger problem than importers have seen in years. The issue is being caused by thieves, sometimes working in organized gangs, looting freight trains as they move through Los Angeles County, just outside the nation's largest seaport complex.
Dramatic photos and videos of the rail tracks in Los Angeles have gone viral on the internet. At least one train derailment is blamed on the volume of packages and package contents littering the tracks.
Union Pacific has said it may avoid operating in Los Angeles County following the spike in thefts, which it blames on lax prosecution of crimes. The seals are meant to identify theft, but are generally not substantial enough to thwart it.
Union Pacific said last month in a letter to the Los Angeles District Attorney that 2021 was a 160% annual increase in theft in LA county.
The Association of American Railroads expressed concern about the crime increase.
"In coordination with local law and where necessary federal law enforcement partners, the industry is committed to pursuing all avenues necessary to address this criminal behavior," spokesman Ted Greener said in a statement.
Union Pacific, said they'd seen about $5 million in damages and thefts and noted on average, more than 90 shipping containers are looted per day. Residents in the the Los Angeles neighborhood of Lincoln Heights area say they've watched the chaos unfold at all hours.
Men working as a team crack open large shipping containers on idle trains then load stolen goods into trucks and vans. Some, they say, continue their missions even when a train is moving, using power tools or bolt cutters to crack open the large metal boxes.
The worsening trend is another potential hurdle in the nation's supply chain crisis as the ports in Los Angeles and nearby Long Beach – the two busiest in the country – attempt to rebound after a backlog.
Some say they are fearful of reporting the thefts as they watch both homeless who live in the area and organized groups loot the containers. Residents say they worry about retribution.
Police said 46 semi-automatic shotguns and 36 pistols were among the goods to be taken from a train bound for Tennessee in August 2021, NBC News reported. Only two of the firearms have since been recovered.
UK Begins 232 Negotiations
Lat month the U.S. and U.K. agreed to start talks aimed at resolving their trade dispute over U.S. steel and aluminum tariffs, the countries said in a joint statement. The U.S. has already implemented an agreement with the E.U. to shift Section 232 25% metal import duties to a tariff rate quota (TRQ) system based on the country of origin of the material. That deal, reached last October, took six months to negotiate.
The new talks will also cover the UK's 25% retaliatory tariffs on U.S. products, which include whiskey, motorcycles, blue jeans and tobacco. Annual exports of U.S. whiskey to Britain have fallen by more than half since 2018, according to the Distilled Spirits Council, which welcomed the announcement.
No specific date or timeline was given for the talks but discussions will address "global steel and aluminum excess capacity, including the United States' application of tariffs" on the metals from Britain.
"Both parties are committed to working towards an expeditious outcome that ensures the viability of steel and aluminum industries in both markets," the joint statement said.
That statement was issued after a virtual meeting between U.S. Commerce Secretary Gina Raimondo and UK Secretary of State for International Trade Anne-Marie Trevelyan to discuss the tariffs. U.S. Trade Representative Katherine Tai also signed onto the joint statement.
U.S. steelmakers cautioned against the UK negotiations and similar talks with Japan leading to substantial additional volumes after a nearly 50% jump in imports last year.
"We think it is essential that the administration ensures that the various new agreements it is considering do not result in a flood of imports," said American Iron and Steel Institute President Kevin Dempsey.
Philip Bell, who heads the Steel Manufacturers Association, said Britain's steel production is "highly export oriented" and dominated by Chinese and Indian ownership.
"The U.S. government should be concerned about any additional alternative arrangement that will lead to increased steel imports and support countries not committed to free and fair trade," Bell said in a statement.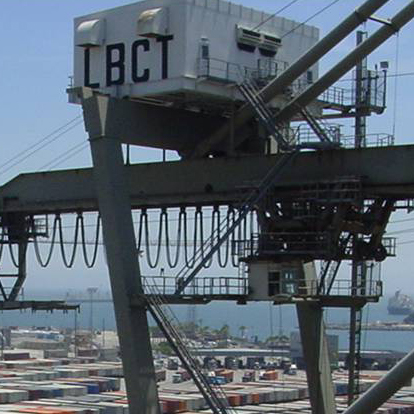 Despite Congestion POLB Sets Volume Record in 2021
The Port of Long Beach announced it has set a new Port record in 2021, handling almost 9.4M TEUs containers. That movement is despite the well-publicized delays in getting containers to and from the Port.
The Port ended 2021 with 9,384,368 TEU processed, a 15.7% increase from the previous record of more than 8.11 million TEU moved in 2020. Imports jumped 14.6% to 4,581,846 TEU and exports declined 2.6% to 1,437,916 TEU compared to last year. Empty containers moving through the Port were up 27.5% to 3,364,606 TEU.
The Port of Long Beach had 980 container vessel calls in 2021, down from 1,042 a year earlier due to the elimination of 'dual calls' for some shipping services that moved up and down the West Coast.
That change in call structure also affected other ports and highlighted the unexpected difficulties importers are having navigating the west coast congestion issues. Total container numbers at the Port of Oakland, just north of Long Beach, have fallen for the third consecutive year.
Import container volume hit a new record at the Port of Oakland for the year. But the total number of containers handled dropped again. Oakland reported that it handled the equivalent of 1,055,614 TEU import containers in 2021. That was the most in Oakland's 94-year history and 6 per cent above 2020 totals.
Oakland reported totals of 2,448,243 TEU for 2021, down from 2,461.262 in 2020 and record 2018 levels of 2,546,399 TEU.
Late-arriving ships, cancelled voyages and weeks-long delays at some ports hampered freight movement.
Consequently, Oakland's 2021 export volume declined 8 per cent year-over-year because of the disruptions.
Port of Oakland Maritime Director Bryan Brandes said: "We're gratified that our import business remained strong. Our emphasis now is on overcoming supply chain challenges that have hurt our export customers."
Oakland reported that 55 per cent of its 2021 cargo loads were imports; only 45 per cent were exports. Historically, Oakland's business split 50/50.
The port will implement a queueing system for arriving ships; and an exclusive empty container yard for exporters. Oakland said it's collaborating with shipping lines to restore vessel services suspended in 2021.
Original ACE Portal Accounts Expire This Month
Late last month CBP deployed the completely new ACE portal in the first phase of its ACE Portal Modernization project. Users have until February 20th to set up a new account and transition to the new login page @https://ace.cbp.gov.
The new site is no longer built for Internet Explorer, the required browser for the original ACE Portal, and some features may not work properly (or even display) unless the ACE site is accessed with Microsoft Edge or Google Chrome.
To access the modernized ACE Portal, users must first create an account for the new website. As part of this process, existing users will complete a one-time sync by entering their legacy ACE Portal username and password.
Cybersecurity, anyone? Logging in to the new portal will take Multifactor Authentication (MFA) as part of the login process. Every time users log into the new ACE Portal, CBP will send an email with a security token to the account's associated email address.
The email security tokens expire after five minutes. If the user has not logged on within five minutes of a security token code's issuance, a new code must be requested. A new security token code will be required each time a user logs on to the ACE Portal.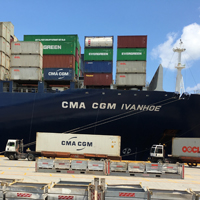 Army Corps Outlines Norfolk Investment Plans
At the end of last month the Biden Administration added details to some of the spending included in the bipartisan Infrastructure Law passed in 2021. the funding will work on projects such as expanding capacity at the nation's largest ports including Norfolk and Long Beach.
The U.S. Army Corps of Engineers is committing $4 billion through Biden's Bipartisan Infrastructure Law to expand capacity at key ports, allow passage of larger vessels, and further enhance the country's ability to move goods.The administration will invest $69 million to improve navigation and expand capacity at Norfolk Harbor, Virginia, which handled 67 percent more containers in 2021 than it did 10 years ago. Work will include deepening and widening the harbor's shipping channels to improve navigation and enable safer access for larger commercial and naval vessels. U.S. Army Corps of Engineers to Invest $14 Billion from President's Bipartisan Infrastructure Law and Other Appropriations to Strengthen Port and Waterway Supply Chains and Bolster Climate Resilience. According to the 2021 Report Card for America's Infrastructure Report issued by the American Society of Civil Engineers (ASCE), in 2018, America's ports supported more than 30 million jobs and approximately 26% of our nation's GDP. Through the Infrastructure Law the Administration will provide $858 million to support the replacement of locks that keep water levels high enough for large cargo ships to pass through the upper Ohio River, west of Pittsburgh. The Administration will also provide more than $470 million to complete construction of a new lock along St. Mary's River in Sault Saint Marie, Michigan, which serves as a passageway for nearly all domestically-produced iron ore. The Administration will invest $8 million to improve commercial navigation and allow larger and more ships to pass at the Port of Long Beach, California – part of the nation's largest port complex. The investment will support design work to widen the port's main channel, deepen the entrance channel, and build an approach channel and turning basin. It also builds on the $52 million grant the Administration previously announced to support the Port of Long Beach's on-dock rail facility, as well as a multi-billion dollar loan agreement with California to modernize the state's ports, freight, and other goods movement infrastructure. The Army Corps will leverage funds from the Bipartisan Infrastructure Law to increase community resilience to flooding, including $250 million for storm surge barriers, levees, and pump stations to reduce storm risk to the City of Norfolk.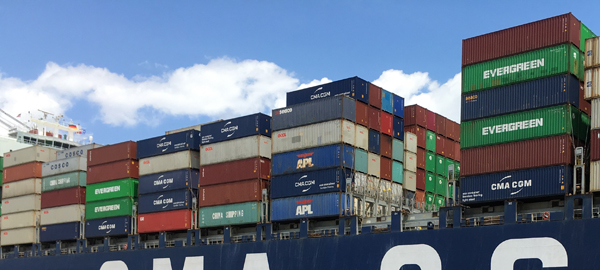 FTZ Staff Activity
FTZ Board Staff processed a Minor Boundary Modification (S-1-2022) in FTZ 281B on behalf of Costex Corporation, in Miami, FL, on January 6, 2022
FTZ Board Staff processed a Minor Boundary Modification (S-2-2022) in FTZ 99G on behalf of Delaware Freeport, LLC, in Newark, DE, on January 7, 2022 
FTZ Board Staff processed a Minor Boundary Modification (S-3-2022) in FTZ 93 on behalf of Tobacco Rag Processors, Inc., in Wilson, NC, on January 10, 2022 
FTZ Board Staff processed a Minor Boundary Modification (S-4-2022) in FTZ 84 on behalf of Mitsubishi Logisnext Americas (Houston) Inc., in Houston, TX, on January 10, 2022 
FTZ Board Staff processed a Minor Boundary Modification (S-5-2022) in FTZ 75J on behalf of Honeywell Aerospace, Inc., in Houston, TX, on January 10, 2022 
FTZ Board Staff processed a Termination (S-6-2022) in FTZ 176J on behalf of Metcut LLC, in Rochelle, IL, on January 11, 2022 
FTZ Board Staff processed a Minor Boundary Modification (S-7-2022) in FTZ 281 on behalf of Everwell Parts, Inc., in Miami, FL, on January 19, 2022 
FTZ Board Staff processed a Minor Boundary Modification (S-8-2022) in FTZ 125E on behalf of Thor Motor Coach, Inc., in Bristol, IN, on January 20, 2022 
FTZ Board Staff processed a Minor Boundary Modification (S-9-2022) in FTZ 72 on behalf of LifeScience Logistics, LLC, in Brownsburg, IN, on January 24, 2022 
FTZ Board Staff processed a Minor Boundary Modification (S-10-2022) in FTZ 89 on behalf of US Pharmatech, Inc., in Las Vegas, NV, on January 25, 2022 
FTZ Board Staff processed a Minor Boundary Modification (S-11-2022) in FTZ 32 on behalf of Eduardo E. Lozano & Co, Inc., in Miami, FL, on January 26, 2022 
FTZ Board Staff processed a Minor Boundary Modification (S-12-2022) in FTZ 32 on behalf of ILS Cargo, Corp. , in Doral, FL, on January 26, 2022 
FTZ Board Staff processed a Minor Boundary Modification (S-13-2022) in FTZ 272D on behalf of Sharp Corporation d/b/a Sharp Packaging Services, LLC, in Jacksonville, FL, on January 31, 2022